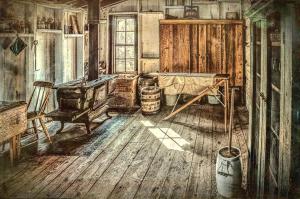 I recently hosted a contest, Rustic Farmhouse Wall Art, via Fine Art America. I love this type of decor and think it makes some of the best wall art. Because it's such diverse category, the entries were quite varied but they all had that same country feel of warmth and comfort.

There were 230 pieces of artwork submitted and the winning entry was from Wes Iversen, A Window to the Past. The impressive HDR image was taken at the Chippewa Nature Center, near Midland, Michigan, which includes a homestead site that depicts rural life in Michigan as it was in the 1870s.

"When I visited the homestead site on a Spring day last year, I did not have any particular image in mind, but was simply looking for good subjects to photograph," says Wes. But the homestead buildings were actually closed during his visit and he describes how he managed to get the shot.

"I was able to capture the handheld HDR shot through the glass on a door to the kitchen. Even though I tried to steady my camera by bracing the lens against the glass, the longest of the three exposures that I took showed some blur, so the image was created by combining only the two shorter-exposure shots. I used Photomatix Pro software to combine the two images into a single high dynamic range (HDR) shot. I then adjusted contrast and sharpened the image in post processing using Photoshop and other tools, and added texture to achieve the vintage look," explains Wes.

Originally from Chicago, Wes moved to Grand Blanc, Michigan, in 2016. Most of his images were taken after 2011 when he retired from a long career in journalism. He is inspired by all types of photography from macros to landscapes, and strives to produce images that tell a story. "Since moving to Michigan, I have particularly been enjoying the opportunity to photograph local wildlife, especially the birds and waterfowl in State Parks and preserves near my new home," he says.

Congratulations, Wes, on your first place win. Such a gorgeous and impressive image.